Eve Jobs
Top Advertising Space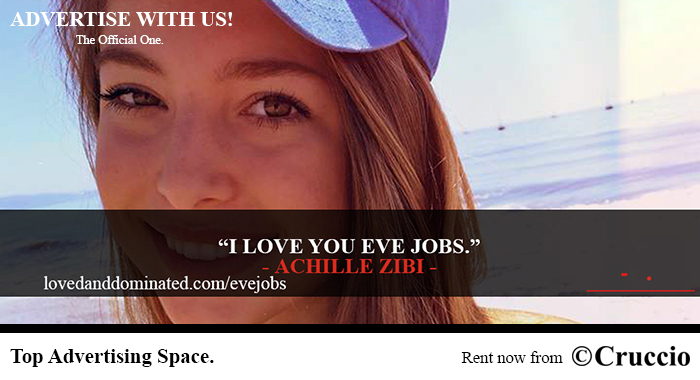 Price: CHF 50000.-
TOP ADVERTISING SPACE ON:
WWW.LOVEDANDDOMINATED.COM/EVEJOBS

TOP ADVERTISING SPACE
Buy if you would like to have your Company featured on
ILOVEYOUEVEJOBS.COM!
(Mrs Eve Jobs approves this Achille Zibi's initiative.)
Each Company will have their own detailed profile which will list all the Company's main information.
All Advertisers will be listed on a "first paid-first listed" basis.
NO EXCEPTIONS.

What do you get:
1 Top Advertising Space on LOVEDANDDOMINATED.COM/EVEJOBS for 12 months.
The data will include:
1.) the Company's name, 2.) the Company's picture or logo, 3.) a concise Company's description,
4.) the Company's address and contacts, 5.) a link to the Company's official website.
To buy a Top Advertising Space you must be a 5Player$ Business Card owner.

This item is not refundable.




---
"I LOVE YOU EVE JOBS." - ACHILLE ZIBI -
LOVEDANDDOMINATED.COM/EVEJOBS is a company founded by Achille Zibi and nobody else.
A website created and designed by Achille Zibi and dedicated to Eve Jobs.

NB
The 50% of the Top Advertising Space's incomes from this website (LOVEDANDDOMINATED.COM/EVEJOBS)
will be given to Mrs Eve Jobs by Achille Zibi.
The remaining 50% of the Top Advertising Space's incomes from this website (LOVEDANDDOMINATED.COM/EVEJOBS)
will be solely administered by Achille Zibi and accounted by ACHILLE ZIBI ENTERPRISE as operating profit.

Disclaimer
The purchase of a Top Advertising Space, the use of the Internet or this website for communication with the Company or any individual member of the Company, does not establish a celebrity-customer relationship.


---
You must login to buy!
Please be aware that Cruccio.com charges a 5% transaction fee.
Go Back
---
Cruccio Accepts
---
©Cruccio official website
www.cruccio.com
Bitcoin Address: 1GJqfrMFeaH2CEMqwTZVFGiD1N1wnhVTLU

Made in Switzerland by Achille Zibi | Status: Active Since 06.2017



An official website of Achille Zibi. Achille Zibi is authorized to operate in behalf of his Clients. Absolutely Effective.
[ The Commercial Agency Contract | Art. 418a-v CH - Code of Obligations. ]

For sponsoring and business matters E: achille.zibi(at)businessingoodfaith.com | W: www.businessingoodfaith.com

AZ-E | ACHILLE ZIBI ENTERPRISE | Waldmannstrasse 15 - CH-3027 Bern | +41 75 415 10 85
---
Copyright © 2013 - 2020 ACHILLE ZIBI. All rights reserved.
About Us | Privacy | Terms | Marketing & Advertising | Careers |