Peace & Love
Thank You So Much Russia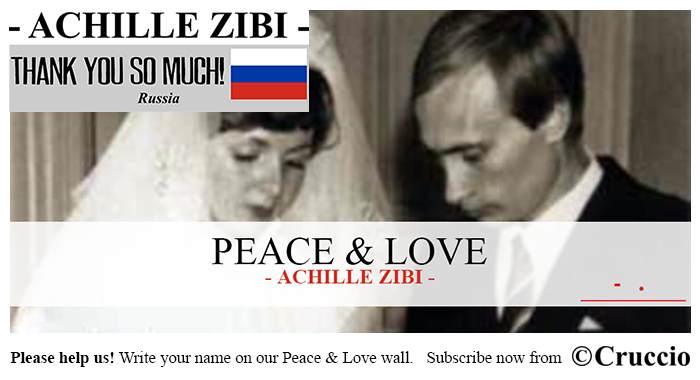 Price: CHF 2.-
PEACE & LOVE: THANK YOU SO MUCH RUSSIA.COM
www.thankyousomuchrussia.com/peace-and-love

ACHILLE ZIBI - THANK YOU SO MUCH RUSSIA - PEACE & LOVE
Please help us!
(If you want to help ThankYouSoMuchRussia.com and you want more Peace & Love in the world,
please write your name on our Peace & Love wall.)
What do you get:
1 year subscription to The Peace & Love Wall of Thank You So Much Russia
Your name and your country's name on The Peace & Love Wall of ThankYouSoMuchRussia.com
This item is not refundable.




---
ACHILLE ZIBI - THANK YOU SO MUCH RUSSIA - PEACE & LOVE
(www.thankyousomuchrussia.com/peace-and-love) Please help us!
(If you want to help ThankYouSoMuchRussia.com and you want more Peace & Love in the world,
please write your name on our Peace & Love wall.)

NB
ThankYouSoMuchRussia.com supports the First Lady and the President of The Russian Federation:
Achille Zibi supports the First Lady Lyudmila Putina and the President of The Russian Federation Vladimir Putin.
The 50% of each Peace & Love subscription sold (1.-CHF) will be given by Achille Zibi
to the First Lady and the President of The Russian Federation in office.

The remaining 50% of each Peace & Love subscription sold will be solely administered by Achille Zibi
and accounted by ACHILLE ZIBI ENTERPRISE as operating profit.

Disclaimer
The subscription to thankyousomuchrussia.com, the use of the Internet or this website for communication with the Company or any individual member of the Company, does not establish a celebrity-customer relationship.


---
You must login to buy!
Please be aware that Cruccio.com charges a 5% transaction fee.
Go Back
---
Cruccio Trusts and Accepts:

If you prefer to buy without entering your credit card information,
pay simply by Bank Transfer or International Money Transfer.
Pay via:




| The SNB recommends anyone who feels that they have become a victim of fraud to contact the relevant criminal authority.
---


MUTUAL APPROVAL
Business Agreement between:
The Client and Achille Zibi.
The conditions of each deal are accepted by both Parties.
©Cruccio official website
www.cruccio.com
Bitcoin Address: 1GJqfrMFeaH2CEMqwTZVFGiD1N1wnhVTLU

Made in Switzerland by Achille Zibi | Status: Active Since 06.2017

This document shall constitute an official record.
[ The Authentic Act ]

An official website of Achille Zibi. Achille Zibi is authorized to operate in behalf of his Client. Absolutely Effective.
[ The Commercial Agency Contract | Art. 418a-v CH - Code of Obligations. ]

For sponsoring and business matters E: achille.zibi(at)businessingoodfaith.com | W: www.businessingoodfaith.com

AZ-E | ACHILLE ZIBI ENTERPRISE | Waldmannstrasse 15 - CH-3027 Bern | +41 75 415 10 85
---
Copyright © 2013 - 2021 ACHILLE ZIBI. All rights reserved.
About Us | Privacy | Terms | Marketing & Advertising | Careers |